Eye Massager Benefits: Fighting Wrinkles, Dark Circles, and Other Common Concerns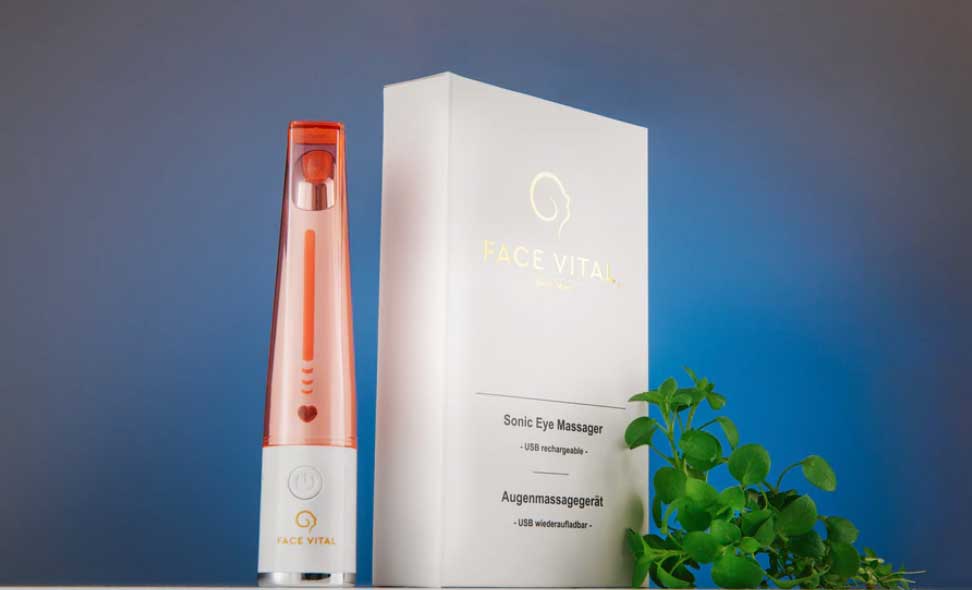 Do you have wrinkles around your eyes? And do you feel like the skin has lost its elasticity? If so, you're not alone. Aging, fatigue, and genetics are just a few factors that can lead to these common concerns. One way to help improve the appearance of fine lines and wrinkles is to use an eye massager. But how do you distinguish the good massagers from the bad? Well, we're not biased or anything, but the Face Vital eye massager delivers a unique 160 times/second vibration massage that helps fight wrinkles, dark circles, and other common concerns. By having a strong understanding of eye massager benefits, you can be sure to address the signs of aging and prevent them from worsening.
What Happens to Our Eye Area as We Age?
The skin around and under your eyes is one of the most sensitive. It is also one of the first spots to show signs of aging, such as fine lines and wrinkles. As we age, our skin loses collagen and elasticity, and these biological changes are what lead to sagging skin and puffiness around the eye area.
How Does an Eye Massager Help Fight Signs of Aging?
An under-eye massager can help improve the appearance of the skin around our eyes in a few ways. Here are the main ones:
Improve blood circulation: The high-frequency vibration massage of an eye massager helps improve blood circulation. This can bring more nutrients and oxygen to the skin, which can help boost the skin's elasticity and firmness.
Reduce inflammation: The massage can help reduce inflammation around the eye area. This can improve the appearance of dark circles and puffiness.
Stimulate collagen production: When reversing the signs of aging, collagen is essential. It helps keep the skin looking firm and elastic. The massager can also help stimulate collagen production when used regularly.
Brightening skin: The vibration of the massage can also brighten and firm up dull skin to give it a more youthful appearance.
Reduce pain from eye strain: Vibrations from the massager can help reduce pain from eye strain or fatigue. This is because the vibration relaxes the muscles around the eye area, which can help relieve any tension that may be causing pain.
Fight crow's feet: The massager's vibration can help to reduce crow's feet, one of the most common issues people face as they age. Because of the vibration, no pressure is needed from the device, just an upward and outward motion in the area of concern. This will stimulate the production of collagen and smooth out the skin.
These are just a few benefits that an eye massager can provide. When used regularly, it can help reduce the signs of aging and fatigue and completely rejuvenate the skin for a more youthful appearance.
Tips on How to Use Eye Massager Effectively
It's essential to make sure you're using a high-quality eye massager for dark circles and other skin issues properly because, well, your face deserves the best! Here are a few tips to keep in mind, so you get the most out of your eye massager:
Use it regularly: Using your device regularly is the best way to get results. Make sure that you use it at least once a day, preferably in the morning or before bedtime. And since it fits into the smallest purse or bag, it's easy to carry it with you to work or to the gym!
Circle motions: When using the device, start at the outer corner of the eye and gently move inward (in a half-circles motion). This will help to ensure that you get the full benefits of its vibration massage. Note: The device should not be used on the eyelid or eyebrow area.
Use a gentle touch: When using your device, it's best to use a gentle touch. The skin around the eyes is sensitive, and while you do need some pressure, you don't want to apply too much – it could cause irritation.
Moisturize afterward: Apply moisturizer before using your device. This will help to absorb and lock in the benefits of the massage and ensure that your skin stays hydrated – the vibrations and microcurrent also help with this. Plus, our luxury creme which is part of the Leaf Solution Set is a perfect match to use with the eye massager.
Take photos: If you're using your device to reduce the signs of aging, it's a good idea to take photos before and after use so that you can track your progress. While the end results can be a dramatic improvement, it can be tough to see the gradual changes over time. Taking photos will help you track your progress and motivate you to continue using your eye bag massager.
By following the tips above, you will get the most out of your eye massager. And don't be nervous if, over time, you will develop your own personal techniques that will help you achieve the best possible results. If it's working for you, that's all that matters!
Reverse Common Signs of Aging with an Eye Massager
If you're looking for a way to reverse the signs of aging in the eye area, an eye massager from Face Vital may be your new secret beauty weapon! It's important to remember that taking care of the skin around your eyes isn't just about reversing signs of aging. It's also essential to take care of this area to prevent signs of aging from happening in the first place. Be sure to check out our other beauty devices, such as our most popular skin care product, the Face Vital Leaf Fusion Plasma. For more information on how to take care of the skin around your eyes, contact the beauty experts at Face Vital to take the next step towards a more youthful appearance with an eye massager.
---